Professional spray on tan
Tuscan Tan is unique in the Australian marketplace, using world-exclusive colour technology to create naturally tanned skin tones with 100% accuracy.
Tuscan Tan has developed the only spray tan solution in the world that contains 'Violet-Tone Complex', a blend of plant-based ingredients that eliminates the orange undertones commonly associated with fake tan, ensuring a natural finish every time.
Tuscan Tan professional spray tan solutions adapt to any skin type, and any depth of colour can be achieved from lightly sun-kissed through to the darkest of tans. The tan dries immediately on application, is completely odourless once developed, and lasts seven or more days before gradually and evenly fading.
Your Beauty Spray Tanning
Full Body Tan ~ $36
Half Body Tan ~ $19.50
Package of 6 Full Body Spray Tan's $175  Save $35!
Preparation for your tan
Whether you are preparing for a professionally applied spray on tan or self applied tan, Tuscan Tan recommends the following:
Undertake all hair removal treatments beforehand.
Exfoliate your skin using Tuscan Tan Exfoliating Sugar Scrub.
Wash using Tuscan Tan pH Balanced Skin Wash.
If you have stubborn fake tan residue remaining from a previous tan, use the Tuscan Tan Tan Removal Mitt.
Don't apply moisturiser, deodorant or perfume beforehand.
Wear loose clothing and thongs afterwards until your tan has fully developed. NOTE: Development times vary depending on the product used.
Tuscan Tan Exfoliating Sugar Scrub
An oil free granular exfoliant formulated to remove dry, dull or aged skin cells in preparation for the tanning application to ensure uniform colour development, and a longer lasting tan that will fade gradually and evenly.
250g  – RRP $26.00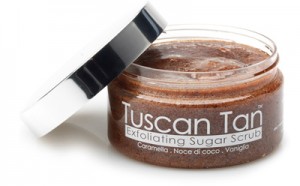 Tuscan Tan ph Balanced Skin Wash
Formulated for use prior to the tanning application to restore the skin's natural pH levels, and afterwards once the tan has developed to gently cleanse the skin whilst showering and maintain pH levels so that the tan doesn't alter in colour or fade prematurely.
250ml – RRP $26.00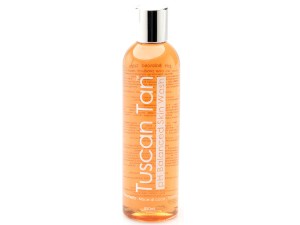 Tuscan Tan – Tan Removal Mitt
A revolutionary product that changes that way in which fake tan can be removed or corrected.  When combined with water and massaged on the skin, the red side instantly removes fake tan build up, whilst the gentler green side is designed to correct minor fake tan application errors in the developed tan, such as inconsistencies in colour or the over application of tanning product.
RRP $20.00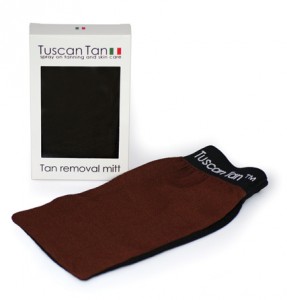 Care for your tan
After care following a professionally applied spray on tan can vary depending on the spray solution used, so please be careful to read correct aftercare recommendation below.
Rapid Amino 90 spray tan – 90 minute development
Tuscan Tan Rapid Amino 90 spray tan requires 90 minutes to develop. Note: It will not over develop if left on the skin longer.
After ninety minutes you may shower, however, this first shower must be QUICK – just a quick rinse with water only for no more than 30 seconds – No soap or body wash products should be used during this first rinse. NOTE: The tan will be only partially developed at this stage however will continue to develop further over the next 6 hours. During this further development time you should not apply any products to your skin such as moisturiser.
Once the further development has taken place, you may shower as normal however only use Tuscan Tan pH Balanced Skin Wash to cleanse when showering.
After showering pat your skin dry with your towel rather than rubbing so as not to prematurely fade your tan.
Moisturise every day using the Tuscan Tan Tinted Tan Extender.
Tuscan Tan ph Balanced Skin Wash
Formulated for use prior to the tanning application to restore the skin's natural pH levels, and afterwards once the tan has developed to gently cleanse the skin whilst showering and maintain pH levels so that the tan doesn't alter in colour or fade prematurely.
250ml – RRP $26.00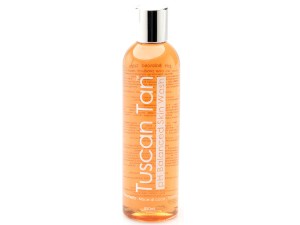 Tuscan Tan Tinted Tan Extender
A light, yet superbly effective, hydrating body lotion fortified with ingredients renowned for their moisturising properties. Contains Tuscan Tan's exclusive cosmetic bronzers to maintain the cooler tones within the developed tan, together with a hint of mica mineral shimmer for a dewy glow.
250ml – RRP $26.00